Today i will talk about Samsung Unpacked 2021. On 14th January at 8PM, Samsung has launched some premium flagships products. Galaxy Unpacked is always the best event of Samsung. Last year also, I wrote article on samsung unpacked 2020. let's see what Samsung has launched now!
Products Launched by Samsung
Samsung Galaxy S21
Galaxy S21+
Samsung Galaxy S21 Ultra
Galaxy Buds Pro
Samsung Galaxy Smart Tag
Samsung Galaxy S21 and S21+
After S20, Samsung has improved display, battery, hardware, software, everything in the new Galaxy S21. Samsung have titled this launch event as epic launch event. All the products launched by them are seriously epic in everything.
Display of Galaxy S21 and S21+
S21 and S21+ have similar features, their is only difference in their display sizes. Galaxy S21 has a 6.2″ Infinity O display along with 120Hz refresh rate that will provide you the smoothest scrolling ever. But S21+ carries a 6.7″ Infinity O display along with 120Hz refresh rate.
Also check : Samsung Unpacked 2020
To take care of the screen and to increase the durability of S21 series, Samsung has placed Corning Gorilla Glass Victus. It is the toughest glass ever on the Galaxy smartphone. It will provide you more durability with minimal scratches and Damage.
Camera of Galaxy S21 and S21+
Galaxy S21and S21+ both are packed with a triple rear camera setup i.e 64MP + 12MP +12MP. For the selfie camera, both the phones have a 10MP AI camera to provide you beautiful selfies. Interesting fact about S21 series is the video recording.
They can support 8K video recording and 8K video recording is highest in the smartphone till now. Record 8K videos at 24fps with ease along with immersive video quality experience. Their is also an AI Super steady mode to provide you super steady Videography.
Also check : 10 best samsung phones under 20,000
Their is much more to tell you about the epic camera. Their are many photographic modes like night mode, AI beautifications and 30x Zoom as well. Both rear and front camera also supports auto focus for the better clarity and better zoom with 30X.
Battery and Performance in S21 Series
S21 series also has a epic battery and epic performance as well. They are packed with 4800mAh battery that will charge your phone in minutes with fast charging support. It can also support fast Wireless charging 2.0 to power up your phone with any cable.
Their is also a wireless power share feature that lets you to use your phone as a Powerbank to charge other devices like buds or some other phones. As far as the performance is concerned, S21 series has the fastest chip ever in a Galaxy device. It supports 8GB RAM along with 5nm processor to provide you faster performance than before.
Other Features
Everyone needs security in their phones. Nowdays, hackers are hacking confidential information of many mobile users and fooling them. The Knox security platform delivers a high level of security that will protect your phone and giving you more confidence in your data and app permissions. Price of S21 starts from Rs 70,000 and price of S21+ starts from Rs 81,999
Also check : Samsung galaxy M02s specs
Their is also an ultrasonic fingerprint sensor, you can even unlock your phone even if your finger's are dry. These phones are also IP68 Water Resistance to protect your phone from dust, dirt and water splashes. Choose from some interesting colours like Phantom Violet, Phantom silver and Phantom Black.
Samsung Galaxy S21 Ultra
Now i will only tell you the differences between S21 Ultra and S21 series. I will not repeat the same specifications, I will only tell you the differences. Galaxy S21 Ultra carries a 6.8″ Edge Quad HD+ Display. You can choose from Phantom black or phantom silver colours.
EPIC S21 ULTRA CAMERA
The epic thing about S21 Ultra is the camera. S21 ultra is packed with a Quad rear camera setup i.e 12MP + 108MP + 10MP + 10MP that will provide you a next level photography. It feels like you are carrying a DSLR in your phone.
For the selfie camera, You will get a 40MP selfie camera which i crazyy. This phone is seriously an Ultra phone specially in the case of photography and videography. The suprizing element about the S21 Ultra is the 100x space zoom. This is the first phone to have 100x zoom. You can even zoom to watch the moon.
Only S21 Ultra supports S pen. no other Model in the S21 series supports S pen other than ultra. The other difference in the Ultra is the battery i.e Galaxy Ultra has 5000mAh battery life but other all functions are common.
Rest all other features are common in the Ultra as well like knox security, powerful chip, IP68 Water resistance, etc. Price of S21 Ultra starts from Rs 1,05,999
Galaxy Buds Pro
Galaxy Buds Pro are similar to galaxy buds live launched by Samsung in 2020. Buds pro are also wireless earbuds These are fully noise cancellation buds with smart ANC as well. These are also epic from the buds live.
Their is a special Voice detection feature which will smartly detect. It will automatically switches from ANC to ambient sound when buds will hear your voice. For eg, if want to order something while you are listening to music, buds will detect your voice and will lower the volume so that you can order easily.
Another good feature about Buds is the ambient sound which will help you to hear the outside voices with clarity. Their is an intelligent algorithm which will raise the volume of outside environment so that you can hear the outside voices clearly.
AKG Sound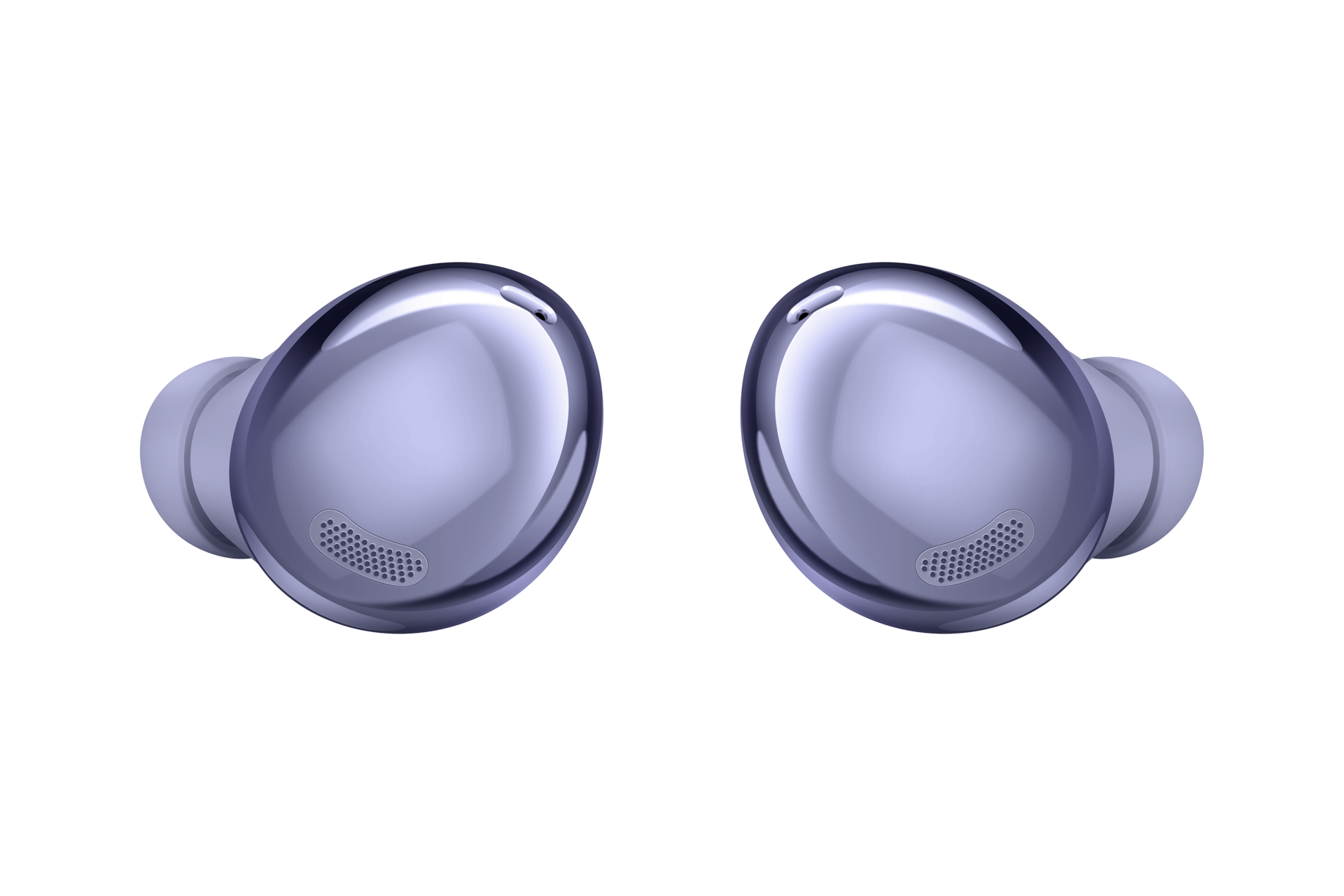 Buds are packed with AKG sound supported by Dolby Atmos to provide you an immersive sound quality experience. Their is also an auto switch function like if you are watching any movie on your tablet and you suddenly gets a call, buds will automatically switch to your phone.
Their is also a smart assistant Bixby to listen to your commands like Bixby what is the battery level of my phone? You can even track your buds, like if you lost one bud, you can track it through smart things app.
You can choose from Phantom Violet, Phantom Black and Phantom Silver. They will easily fit in your ears and will provide you great comfort. These are IPX7 water resistant to provide them from sweating and dust. These are priced at Rs 15,990
Samsung Galaxy Smart Tag
These are the latest Tags launched by Samsung. These Tags will identify your things easily. Like attach the tag to keys, pets, cars or anything you want. You can even attach the tags on your girlfriends so that you will got to know her location everytime 😂.
When you need to find something, just open the app and click the ring option. And it will help you to identify your belongings in just seconds. Price has not been specified by Samsung.
Overview
This is the end of the Samsung unpacked. Such good products has been launched by Samsung. I think you have understood all the products and their specs launch by Samsung in their latest Samsung Unpacked event. If you liked this article, please like, share and Comment below your thoughts 🙂